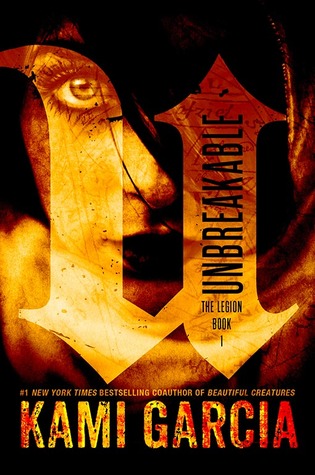 Reading Level: Young Adult
Publisher: Little Brown
Source: Bought
First book in The Legion series
Supernatural meets The Da Vinci Code in this action-packed paranormal thriller, the first book in a new series from New York Times bestselling author Kami Garcia.
I never believed in ghosts. Until one tried to kill me.
When Kennedy Waters finds her mother dead, her world begins to unravel. She doesn't know that paranormal forces in a much darker world are the ones pulling the strings. Not until identical twins Jared and Lukas Lockhart break into Kennedy's room and destroy a dangerous spirit sent to kill her. The brothers reveal that her mother was part of an ancient secret society responsible for protecting the world from a vengeful demon — a society whose five members were all murdered on the same night.
Now Kennedy has to take her mother's place in the Legion if she wants to uncover the truth and stay alive. Along with new Legion members Priest and Alara, the teens race to find the only weapon that might be able to destroy the demon — battling the deadly spirits he controls every step of the way.
Suspense, romance, and the paranormal meet in this chilling urban fantasy, the first book in a new series from Kami Garcia, bestselling coauthor of the Beautiful Creatures novels
Review
The only word I can think of to describe this book is wow. That's all I can come up with. This was seriously one impressive read.
This tells the story of Kennedy. Her moms sudden death has brought on a million questions. Two boys suddenly show up with answers. If Kennedy is going to survive, she must take up her role in the Legion.
Kennedy had a few self doubt moments that got old. But other than that I really enjoyed her. I liked seeing her grow throughout the story. She can be pretty badass when she tries. Lukas and Jared were super cute. I personally fell a little harder for Jared. I've always been one for the tortured soul. Priest and Alara were pretty fantastic also. I loved how everyone had something different to contribute to the team. They all held their own very well. And they were a family which always nice to see.
This had an uber creepy storyline. I loved the ghostbusters feel. It was a super original concept. I loved all the action and different things going on. I didn't see half that stuff coming. I also loved that everything seemed to have a backstory. It made things more interesting. Those ghosts were pretty scary. I even had to take a few breaks to calm down! This was definitely a one sitting read for me. As soon as I finished I wanted more. I cannot wait to continue this series!