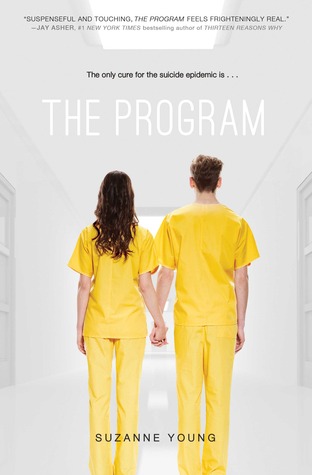 Reading Level: Young Adult
Publisher: Simon Pulse
Source: Bought
First book in The Program series
In Sloane's world, true feelings are forbidden, teen suicide is an epidemic, and the only solution is The Program.
Sloane knows better than to cry in front of anyone. With suicide now an international epidemic, one outburst could land her in The Program, the only proven course of treatment. Sloane's parents have already lost one child; Sloane knows they'll do anything to keep her alive. She also knows that everyone who's been through The Program returns as a blank slate. Because their depression is gone—but so are their memories.
Under constant surveillance at home and at school, Sloane puts on a brave face and keeps her feelings buried as deep as she can. The only person Sloane can be herself with is James. He's promised to keep them both safe and out of treatment, and Sloane knows their love is strong enough to withstand anything. But despite the promises they made to each other, it's getting harder to hide the truth. They are both growing weaker. Depression is setting in. And The Program is coming for them.
Review
I was so excited to read this book! It was really amazing. The storyline was crazy unique and the characters were fabulous.
Sloane and James only have each other. They fight the depression as hard as they can. If they don't The Program will come for them. They know if The Program gets to then, they will never be the same after.
Sloane and James honestly made this book. They were so amazing they didn't even seem real. They both had amazing personalities. The love they had for each other was incredible. Their relationship was so well done. They also had an incredible fight in them. They weren't going to give up on each other for anything.
This story was completely unlike anything I've ever read. It took a very serious and real topic and turned it into this page turning world. I loved it! I could not stop reading. I loved all the memory aspects. I loved all the twists and turns. I am dying to continue this story! It left me dying for more. I cannot wait to get my hands on the sequel.