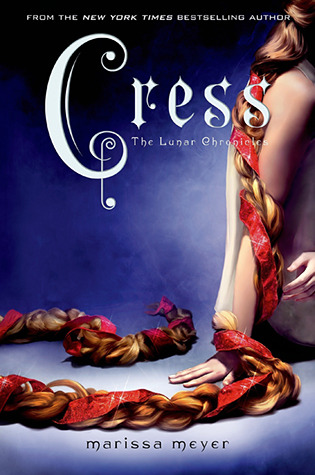 Reading Level: Young Adult
Publisher: Feiwel and Friends
Source: Bought
Third book in the Lunar Chronicles
In this third book in the Lunar Chronicles, Cinder and Captain Thorne are fugitives on the run, now with Scarlet and Wolf in tow. Together, they're plotting to overthrow Queen Levana and her army.
Their best hope lies with Cress, a girl imprisoned on a satellite since childhood who's only ever had her netscreens as company. All that screen time has made Cress an excellent hacker. Unfortunately, she's just received orders from Levana to track down Cinder and her handsome accomplice.
When a daring rescue of Cress goes awry, the group is separated. Cress finally has her freedom, but it comes at a high price. Meanwhile, Queen Levana will let nothing prevent her marriage to Emperor Kai. Cress, Scarlet, and Cinder may not have signed up to save the world, but they may be the only hope the world has.
Review
This series literally never stops getting better. Like really I don't even have words anymore! Amazing is the only one I could think off.
Cress is an amazing tracker. She's been stuck on a satellite for seven years. Cinder, Thorne, Scarlet, and Wolf are plotting to overthrow the Queen. Cress will do anything to help. Even if it means playing for both sides.
I was so happy we got to see all my favorite characters! Cress made a fabulous addition to the gang. I loved how strong she was. She was very true to herself. She was also very determined. I loved getting to see so much of Thorne. He's fabulous! We really got to know him a little better. As always Cinder, Scarlet, Wolf, and Kai were amazing!
This story seriously rocked! There was so much going on. It was fun and exciting. The action and suspense were perfect. I loved the point of view switches. I loved having no idea what was coming next. This set up for an amazing conclusion. It left me dying for more. I thought everything was well done. The wait for the next book might just be the death of me!