I only have one book that released in July to talk about, but it's a good one so that's okay!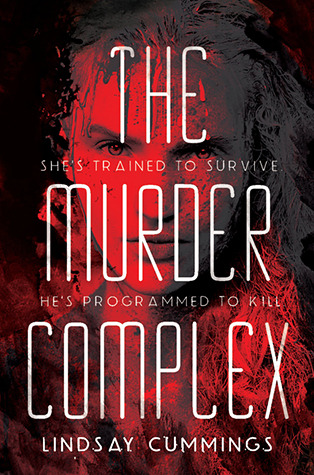 The Murder Complex by Lindsay Cummings
Release date: June 10th, 2014
Received from Greenwillow Books at TLA 2014
An action-packed, blood-soaked, futuristic debut thriller set in a world where the murder rate is higher than the birthrate. For fans of Moira Young's Dust Lands series, La Femme Nikita, and the movie Hanna.
Meadow Woodson, a fifteen-year-old girl who has been trained by her father to fight, to kill, and to survive in any situation, lives with her family on a houseboat in Florida. The state is controlled by The Murder Complex, an organization that tracks the population with precision.
The plot starts to thicken when Meadow meets Zephyr James, who is—although he doesn't know it—one of the MC's programmed assassins. Is their meeting a coincidence? Destiny? Or part of a terrifying strategy? And will Zephyr keep Meadow from discovering the haunting truth about her family?

Action-packed, blood-soaked, and chilling, this is a dark and compelling debut novel by Lindsay Cummings.
Once upon a time at a time at a TLA conference we met someone. She had cool hair, Divergent pins, and a book coming from Harper in 2014. Flash forward about 2 years to another conference, I finally got a copy of that book. That someone was Lindsay Cummings and that book was worth the wait.
With dystopian books being so popular it gets hard to find one that stands out. But this one certainly does. You expect your dystopian worlds to be dark and complicated with maybe a little blood. This was all that and more. Definitely more blood. It was interesting to read about the setting and how it shaped the characters.
These characters lived in such a dark world and really became a product of their environment. They had to adapt to survive and just to get by. This caused them to do things they didn't really want to and even things they weren't aware they were doing. It caused them to hold on tight to the people they loved and really fight for them. Everyone in this book had an interesting dynamic, especially Meadow and Zephyr, and I enjoyed reading about all of them.
This book was near impossible to put down. Full of twists and suspense and action. It had dynamic characters and a dark world. If your looking for a different dystopian you need to pick this up. And I need to know when I can pick up the sequel.
That's my review for July! I'll hopefully have the one for July up soon.