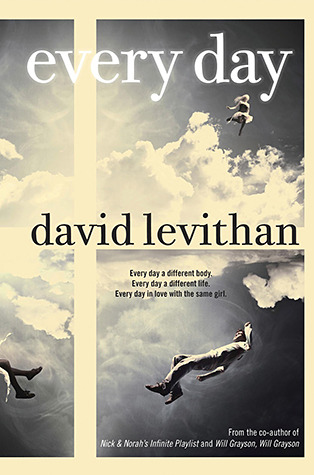 Reading Level: Young Adult
Publisher:

Knopf Books for Young Readers
Source: Bought
First book in a possible series
Every day a different body. Every day a different life. Every day in love with the same girl.
There's never any warning about where it will be or who it will be. A has made peace with that, even established guidelines by which to live: Never get too attached. Avoid being noticed. Do not interfere.
It's all fine until the morning that A wakes up in the body of Justin and meets Justin's girlfriend, Rhiannon. From that moment, the rules by which A has been living no longer apply. Because finally A has found someone he wants to be with—day in, day out, day after day
Review
I've wanted to read this story forever. I've heard the most amazing things. This story has definitely earned all that hype. This was one amazing read.
This tells the story of A. Everyday he's a new person. This is the life he lives. One day he meets someone worth remembering. He questions how to love and be loved when you're a new person everyday.
A was honestly unlike any other character. He was incredibly unique. I can't imagine having that life but he made the best of it. He tried to be compassionate of the bodies he borrowed. He didn't let anything affect him. I loved his determination. The romance of this story was absolutely perfect. It was innocent and sweet. But it was also very challenging. It ended just open enough to keep the story going.
This book has a storyline that will blow your mind! It's impossible to put down. There is so much to be taken from this story. It has some real life struggles. It's very relatable. It's like a love story filled with life lessons. I loved all the different people and their stories. I loved that no one was perfect. I was really happy this had a semi open ending. I do hope to see more of this story because I found it very impressive!