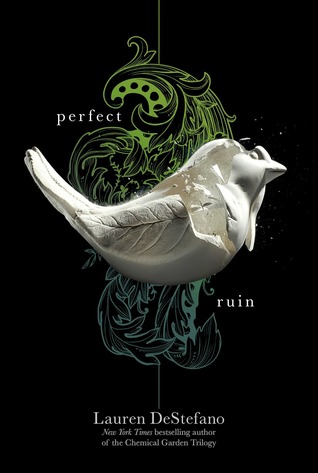 Reading Level:Young Adult
Publisher: Simon and Schuster
Source: Bought
First book in the Internment Chronicles
On the floating city of Internment, you can be anything you dream, unless you approach the edge. Morgan Stockhour knows getting too close can lead to madness, like her older brother Lex, a Jumper. She takes solace in her best friend Pen, and in Basil, the boy she's engaged to marry. When she investigates the first murder in a generation, she meets Judas. The suspect was betrothed to the victim, but Morgan believes he is innocent. Nothing can prepare Morgan for the secrets she will find – or whom she will lose.
Review
I've had my eye on this since I first heard about it. The cover and synopsis and me curious. I'm a huge fan of this author. My expectations were pretty far up there. Not to worry though, this met them easily!
This tells the story of Morgan. The most important rule in her city is to stay away from the edge. Morgan lives a pretty calm life until a murder happens. As she starts to investigate, she makes a new friend, and uncovers come secrets that are better left hidden.
I really enjoyed Morgan. I loved how mysterious and complex she was. I loved that she never stopped asking questions. I loved how sweet and caring she was. She was very true to herself. Basil was such an amazing addition to the story. I loved how loving and protective he was. He was also very strong. Both Renn and Judas made great secondary characters. This story had an amazing family aspect. Everyone really stuck together. I can't wait to learn more about all these characters.
The world building in this story is amazing. As is the plot. It was very mysterious and suspenseful. I really enjoyed the setting. The story was very fast paced. You had no idea what was coming next. I loved the variety of characters. This was a one sitting read for me. I really enjoyed it. I cannot wait for the sequel. If you're looking for something unique, I highly recommend checking this one out!