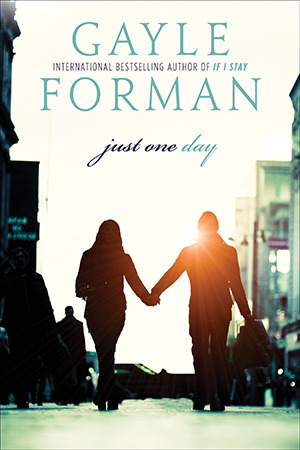 Reading Level: Young Adult
Publisher: Speak
Source: Bought
First book in the Just One Day series
Allyson Healey's life is exactly like her suitcase—packed, planned, ordered. Then on the last day of her three-week post-graduation European tour, she meets Willem. A free-spirited, roving actor, Willem is everything she's not, and when he invites her to abandon her plans and come to Paris with him, Allyson says yes. This uncharacteristic decision leads to a day of risk and romance, liberation and intimacy: 24 hours that will transform Allyson's life.
A book about love, heartbreak, travel, identity, and the "accidents" of fate, Just One Day shows us how sometimes in order to get found, you first have to get lost. . . and how often the people we are seeking are much closer than we know.
Review
This is one of those books that makes you believe everything is possible. That you can do or be anything. That alone is the reason I loved it so much.
This tells the story of Allyson. She craves adventure. Willem gives her the adventure of a lifetime. But only for one day. As Allyson returns to reality, she wonders what really happened that day.
Allyson had a few moments where I didn't enjoy her. She liked to doubt things. Other than those few moments, I enjoyed her. I loved getting to see her grow. She was learning to fight for herself. She had an amazing sense of adventure. We only saw a little bit of Willem. I really can't wait to see more of him. He was quite the cutie!
This really had the most amazing storyline. I loved all the different places we got to see. I loved the life lessons. I loved how hard things were for Allyson. There is so much to be taken from this story. It's impossible to put from. Everything was incredibly well done. I of course had to start the sequel right after finishing this. That ending was killer! If you crave adventure, this one is for you!