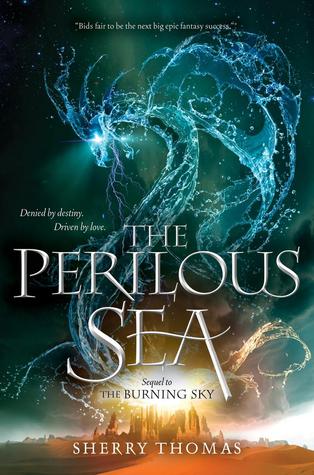 Reading Level: Young Adult
Publisher: Balzer and Bray
Source: Conference
Second book in The Elemental series
After spending the summer away from each other, Titus and Iolanthe (still disguised as Archer Fairfax) are eager to return to Eton College to resume their training to fight the Bane. Although no longer bound to Titus by a blood oath, Iolanthe is more committed than ever to fulfilling her destiny—especially with the agents of Atlantis quickly closing in.
Soon after arriving at school, though, Titus makes a shocking discovery, one that makes him question everything he previously believed about their mission. Faced with this devastating realization, Iolanthe is forced to come to terms with her new role, while Titus must choose between following his mother's prophecies—and forging a divergent path to an unknowable future.
Review
What a sequel! I was a little worried for this one. I had such high expectations and didn't want it to miss them. Of course that didn't happen. This story met my expectations easily. It was absolute perfection.
Titus and Iolanthe have been separated all summer. They are eager to return to Eton College and continue training. Titus has never know exactly what his mothers prophecies meant. Things get crazy when he makes a shocking discovery that could change everything.
I absolutely adore Titus. I have right from the start. Yes, he had some choices to make regarding who was best for him. It was very hard to see him and Iola grow apart. They work so well together. But I think that was a challenge they needed to face. Iola is such an amazing character. She can do anything. She never stops growing as a character. She's always fighting while still being loving she's incredibly powerful. Her role in the story was a little clouded. I loaded seeing her stick by Titus even when he didn't know what he wanted. The relationship between then is honestly my favorite part of the story. They have an amazing relationship.
This story starts off kinda confusing. It alternates between England and the Sahara dessert. I was a little frustrated at times because I was so confused. But, by the end it was all worth it. I loved the unique way the story was told. I've never read a story told quite like that. The magical aspects were great as always. There was an insane amount of action and suspense. This story is impossible to put down. You really had no idea what was coming next. I couldn't have imagined a better sequel. I really loved it to pieces. I cannot wait to see where this author takes us next!