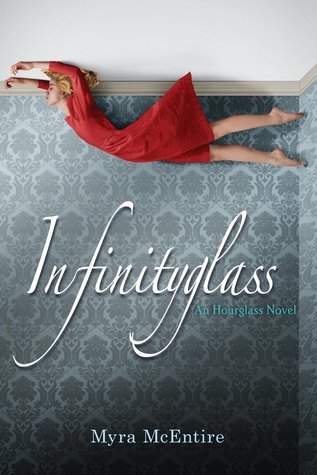 Reading Level: Young Adult
Publisher: Egmont
Source: Bought
Third and final book in the Hourglass series
No time like the present.
No time in the present.
No time left.
From the moment the Hourglass group violated the rules of the space time continuum to rescue a murdered loved one, time has been in flux. People from other centuries slide into our time, intruding into our space, threatening our world.
Frantically seeking a way to turn back this tide, the Hourglass begins a search for the legendary Infinityglass, tracking it to the city of New Orleans, a place where the past rests easily with the present.
Quiet, reliable Dune, the group's favourite geek, is selected to travel to the Crescent City and somehow retrieve the renowned object.
But there's a problem.
Because the Infinityglass is not an object, it's a person.
A beautiful, headstrong dancer named Hallie, a girl so enticing Dune can't take his eyes off her.
And time is not on her side.
Review
I'm having trouble even coming up with words for this book. It was that amazing! I couldn't have asked for a more perfect ending.
The Infinityglass is the most important thing in the entire world. It is central to the understanding and harnessing the time gene. But the Infinityglass isn't an object, it's a person. She doesn't know what she is. The danger is immense.
This book has my favorite set of characters in the whole series. Hallie and Dune were absolute perfection. Hallie is sarcastically badass. Dune is sweet and smart. They balance each other very well. Together, they make a kickass team. Plus, their both incredibly good looking. Their relationship was quite steamy. I adored it. It was very well done. I was very happy to see all my favorite characters from the last books. They make the best secondary characters.
This had a very intriguing storyline. It answered every question I ever had. I loved all the action. I had no idea where the story was going. It was very hard to put down. I loved the New Orleans setting. I loved the family aspects. I loved the tension between characters. Overall I should have read this a long time ago. It was the perfect ending to an amazing series!