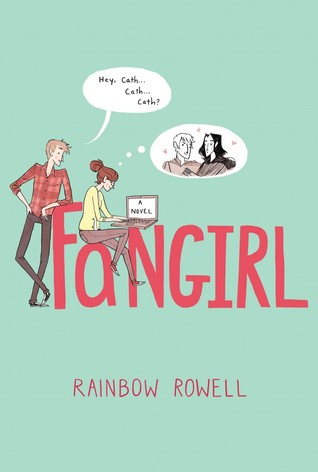 Reading Level: Young Adult
Publisher: St. Martins Press
Source: Bought
Stand Alone
A coming-of-age tale of fan fiction, family and first love.
Cath is a Simon Snow fan.
Okay, the whole world is a Simon Snow fan...
But for Cath, being a fan is her life—and she's really good at it. She and her twin sister, Wren, ensconced themselves in the Simon Snow series when they were just kids; it's what got them through their mother leaving.
Reading. Rereading. Hanging out in Simon Snow forums, writing Simon Snow fan fiction, dressing up like the characters for every movie premiere.
Cath's sister has mostly grown away from fandom, but Cath can't let go. She doesn't want to.
Now that they're going to college, Wren has told Cath she doesn't want to be roommates. Cath is on her own, completely outside of her comfort zone. She's got a surly roommate with a charming, always-around boyfriend, a fiction-writing professor who thinks fan fiction is the end of the civilized world, a handsome classmate who only wants to talk about words... And she can't stop worrying about her dad, who's loving and fragile and has never really been alone.
For Cath, the question is: Can she do this?
Can she make it without Wren holding her hand? Is she ready to start living her own life? Writing her own stories?
And does she even want to move on if it means leaving Simon Snow behind?
Review
The synopsis for this one kinda threw me off. I didn't really understand what to expect. I may have loved this more than Eleanor and Park and that's saying something!
This tells the story of Cath. Her life is dedicated to Simon Snow. When she goes to college her twin sister somewhat abandons her. Left on her own, Cath must decide if there's more to life than fanfiction.
I loved Cath. I loved her unique personality. I loved how she stayed true to herself. I loved that she wasn't embarrassed of herself. I liked seeing her try new things. She really grew throughout the story. Reagan made the best addition to the story. I loved her snarky personality. Levi was absolute perfection in every way possible. Seriously, where can I find one of him? Him and Cath had the best innocent relationship.
This had the most relatable storyline. I loved the college setting. I thought it was super fun. I loved all the fanfiction and Simon aspects. I had some troubles putting this down. It had so many amazing aspects. I couldn't stop smiling and laughing as I was reading. Even though I was skeptical at first, I really adored this story. It's hype is very well deserved!