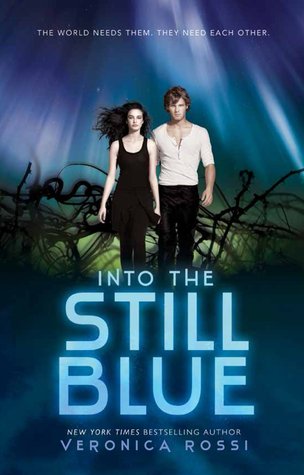 Reading Level: Young Adult
Publisher: Harper Collins
Source: Bought
Third and final book in the Under the Never Sky series
The race to the Still Blue has reached a stalemate. Aria and Perry are determined to find this last safe haven from the Aether storms before Sable and Hess do—and they are just as determined to stay together.
Within the confines of a cave they're using as a makeshift refuge, they struggle to reconcile their people, Dwellers and Outsiders, who are united only in their hatred of their desperate situation. Meanwhile, time is running out to rescue Cinder, who was abducted by Hess and Sable for his unique abilities. Then Roar arrives in a grief-stricken fury, endangering all with his need for revenge.
Out of options, Perry and Aria assemble an unlikely team for an impossible rescue mission. Cinder isn't just the key to unlocking the Still Blue and their only hope for survival--he's also their friend. And in a dying world, the bonds between people are what matter most.
In this final book in her earth-shattering Under the Never Sky trilogy, Veronica Rossi raises the stakes to their absolute limit and brings her epic love story to an unforgettable close.
Review
This book sucks you in like no other. Right off the bat it was intense and exciting. It's safe to say this was an amazing end to an even more amazing series.
This concludes Perry and Aria's story. Their ultimate goal is to protect their people and reach the Still Blue. Sable and Hess are determined to beat them to it. The battle rages on and sacrifices must be made if their going to survive.
Perry and Aria have the most amazing relationship. Together they can do amazing things but they can still stand alone. Aria has grown so much. I loved seeing her really come into herself. Perry has been amazing. I love how much he cares for his people. Both Aria and Perry had to put aside their feelings for the good of the world. I loved seeing them so self sacrificing. That's what makes them such amazing characters. Roar hurt my heart a little. He was really struggling. I was happy to see so much of him though. I was also happy to see so much of Cinder. Cinder played a huge role in this story.
This story is so addicting! It sucks you in and doesn't let you go. There was a perfect amount of action I didn't see any of the twists coming. There was a nice good vs bad vibe. The plot had a lot going on at all times. I thought this wrapped up the series well. I enjoyed the closed but still a little open ending. It gave me everything I wanted!