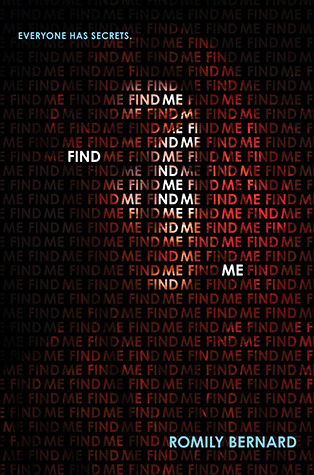 Reading Level: Young Adult
Publisher: Harper Teen
Source: Conference
First book in the Find Me series
"Find Me."
These are the words written on Tessa Waye's diary. The diary that ends up with Wick Tate. But Tessa's just been found . . . dead.
Wick has the right computer-hacking skills for the job, but little interest in this perverse game of hide-and-seek. Until her sister Lily is the next target.
Then Griff, trailer-park boy next door and fellow hacker, shows up, intent on helping Wick. Is a happy ending possible with the threat of Wick's deadbeat dad returning, the detective hunting him sniffing around Wick instead, and a killer taunting her at every step?
Foster child. Daughter of a felon. Loner hacker girl. Wick has a bad attitude and sarcasm to spare.
But she's going to find this killer no matter what.
Because it just got personal.
Review
I never read books like this.But every time I do I enjoy them. This story was no exception. I gobbled it up.
This tells the story of Wick. She has some amazing hacker skills. Tessa Waye's diary was left for Wick. Tessa has been found dead and Wick's sister is the next target.
I loved Wick. She had an amazing sarcastic personality. I loved how complex she was. I loved that she grew throughout the story. She was very determined. She was also very protective and caring. Griff made the best addition to the story. He was fabulous! He too had an amazing snarky personality. But he was also very sweet. He really cared for Wick. I thought they made an adorable couple. Plus together they make a pretty badass hacking team.
This is a thriller. I never read thriller so I really enjoyed this story. It was incredibly mysterious and suspenseful. I loved how nitty gritty it was.I didn't see any of the twists coming. Once you get into this story, it's impossible to put it down. Things are pretty intense throughout the whole story. Once I finished I immediately wanted more. I thought it was very well done and I really enjoyed it. It also made me want to read more thrillers. It was very well done. I cannot wait to get my hands of the sequel!