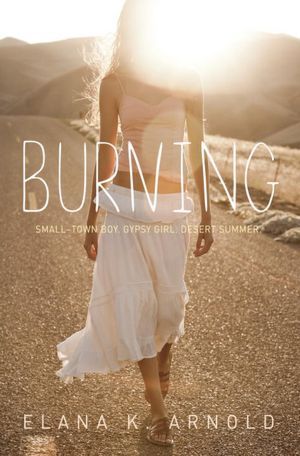 Reading Level: Young Adult
Publisher: Delacrote
Source: Conference
Stand Alone
Ben: Having just graduated from high school, Ben is set to leave Gypsum, Nevada. It's good timing since the gypsum mine that is the lifeblood of the area is closing, shutting the whole town down with it. Ben is lucky: he's headed to San Diego, where he's got a track scholarship at the University of California. But his best friends, Pete and Hog Boy, don't have college to look forward to, so to make them happy, Ben goes with them to check out the hot chick parked on the side of Highway 447.
Lala: She and her Gypsy family earn money by telling fortunes. Some customers choose Tarot cards; others have their palms read. The thousands of people attending the nearby Burning Man festival spend lots of cash--especially as Lala gives uncanny readings. But lately Lala's been questioning whether there might be more to life than her upcoming arranged marriage. And the day she reads Ben's cards is the day that everything changes for her. . . and for him.
Review
I've never read something quite like this. I found this story to be very unique. Even though it isn't something I typically read, I really enjoyed it.
This tells the story of Ben and LaLa. Ben is about to go away to college. LaLa is from a gypsy family. She is an amazing fortune teller. The day LaLa reads Ben's cards is the day everything changes.
I was really glad we got to read from Ben and LaLa's perspective. They both had very unique personalities. I loved how important family was. I loved how sweet their relationship was. I loved the effect they had on each other. They both grew and changed because of the other person. I do think LaLa was a little more developed than Ben. She was very complex whereas Ben was the typical teenage boy. She kinda had an older soul that you don't see often. I really enjoyed getting to know her.
This has a very complex storyline. It was a little hard to keep up with. I loved all the unique aspects. I know like nothing about gypsies and we got to learn a lot about them. This story is honestly a story about growth. It isn't focused totally on Ben and LaLa's relationship. It had some deep meaning behind it that I loved. If you're looking for a cute story with some real life aspects, this one is for you.