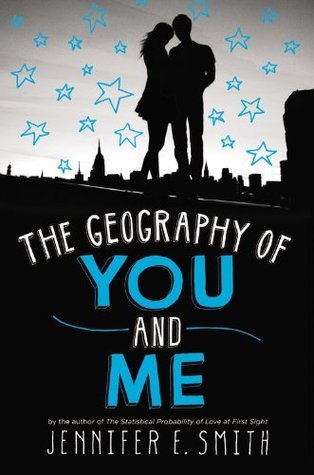 Reading Level: Young Adult
Publisher: Poppy
Source: Bought
Stand Alone
Lucy and Owen meet somewhere between the tenth and eleventh floors of a New York City apartment building, on an elevator rendered useless by a citywide blackout. After they're rescued, they spend a single night together, wandering the darkened streets and marveling at the rare appearance of stars above Manhattan. But once the power is restored, so is reality. Lucy soon moves to Edinburgh with her parents, while Owen heads out west with his father.
Lucy and Owen's relationship plays out across the globe as they stay in touch through postcards, occasional e-mails, and -- finally -- a reunion in the city where they first met.
A carefully charted map of a long-distance relationship, Jennifer E. Smith's new novel shows that the center of the world isn't necessarily a place. It can be a person, too.
Review
This author has done it again. I absolutely loved this story. Everything was left up to chance. It sucks you in and never lets you go.
This tells the story of Lucy and Owen. They end up stuck in an elevator. They spend one magical night together and go their separate ways. But a single postcard brings them back together.
Lucy and Owen individually are amazing. They both have wonderful personalities. Their very easy to relate too. But, put them together and it's perfection. I loved getting to see them grow together. They helped each other in life and in their relationship. Things weren't easy for either of them. But they really made the best of what they had.
This has an absolutely amazing storyline. It was super fun. It had its serious moments too though. I loved all the traveling. There was lots and lots of family aspects. This story had tons of cute moments. It never seemed overdone. I honestly smiled the whole time I was reading this. I couldn't put it down! It didn't quite beat out Jens last hook for my soviets but it was incredibly close! I highly recommend this pretty!