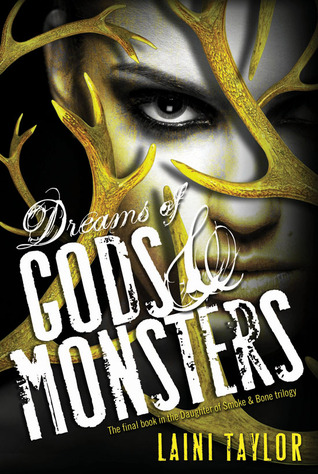 Reading Level: Young Adult
Publisher: Little Brown
Source: Bought
Third and final book in the Daughter of Smoke and Bone series
By way of a staggering deception, Karou has taken control of the chimaera rebellion and is intent on steering its course away from dead-end vengeance. The future rests on her, if there can even be a future for the chimaera in war-ravaged Eretz.
Common enemy, common cause.
When Jael's brutal seraph army trespasses into the human world, the unthinkable becomes essential, and Karou and Akiva must ally their enemy armies against the threat. It is a twisted version of their long-ago dream, and they begin to hope that it might forge a way forward for their people.
And, perhaps, for themselves. Toward a new way of living, and maybe even love.
But there are bigger threats than Jael in the offing. A vicious queen is hunting Akiva, and, in the skies of Eretz ... something is happening. Massive stains are spreading like bruises from horizon to horizon; the great winged stormhunters are gathering as if summoned, ceaselessly circling, and a deep sense of wrong pervades the world.
What power can bruise the sky?
From the streets of Rome to the caves of the Kirin and beyond, humans, chimaera and seraphim will fight, strive, love, and die in an epic theater that transcends good and evil, right and wrong, friend and enemy.
At the very barriers of space and time, what do gods and monsters dream of? And does anything else matter?
Review
I was so excited for this. This series has kept me waiting and wondering how it would wrap up. I was a little scared but this was a fabulous ending.
Everything is up to Karou. She's rebuilding the chimera army in hopes of saving the world. But, it may not be enough.
Karou really wowed me in this. She was amazing. She took what she was handed and made the best of it. She was determined to save the world. Nothing was going to get in her way. I was glad to see so much of Ziri and Akiva. I was also glad to see so much of Mik and Zu. Karou had an amazing team behind her. Plus individually their all amazing characters. I was really glad to learn so much about the chimera and different things in their world. I loved all the bad guys! There was a great good vs bad vibe.
For most of this story war is the plot. There was a lot going on closer to the end that was very confusing. I loved all the war aspects and all the actions. It was very suspenseful. I had no idea what to expect. This story was super fast paced. I thought it wrapped thing up well. I did find myself wishing there wasn't so much going on in the last bit of the book. It was very difficult to keep up with everything. Overall this really was a fabulous ending to a fabulous series. I really enjoyed it!