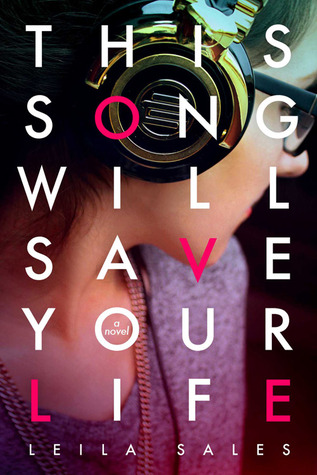 Reading Level: Young Adult
Publisher:

Farrar, Straus and Giroux
Source: Bought
Stand Alone
Making friends has never been Elise Dembowski's strong suit. All throughout her life, she's been the butt of every joke and the outsider in every conversation. When a final attempt at popularity fails, Elise nearly gives up. Then she stumbles upon a warehouse party where she meets Vicky, a girl in a band who accepts her; Char, a cute, yet mysterious disc jockey; Pippa, a carefree spirit from England; and most importantly, a love for DJing.
Told in a refreshingly genuine and laugh-out-loud funny voice, THIS SONG WILL SAVE YOUR LIFE is an exuberant novel about identity, friendship, and the power of music to bring people together.
Review
I wasn't so sure how I was going to feel about this book. The beginning didn't make me fall in love. But once the story got going, I was in love. This was a fantabulous story.
This tells the story of Elise. All she ever wanted was to be cool. After her final attempt she gives up. She stumbles upon this warehouse party. As she explores this warehouse she mets some amazing people that change everything for her.
Elise was an amazing character but she took some getting used too. She had an interesting attitude. I loved seeing her grow and come into herself. By the end of the book she was a whole new person. It was nice seeing her stand up for herself without becoming a mean person. Vicky was by far my favorite secondary character. She was so sweet and fun. I enjoyed Char as well but I wished he could have stayed the good guy.
The best part of this story was the constant growth. The story was always growing and changing. I loved the setting and all the music. I liked that we got to see DJ Elise and everyday Elise as well. It took me a bit to get into the story but once I did, I couldn't stop reading. This is definitely a one sitting read!