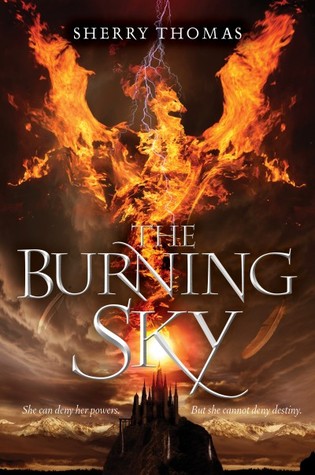 Reading Level: Young Adult
Publisher: Balzer and Bray
Source: Bought
First book in The Burning Sky series
It all began with a ruined elixir and an accidental bolt of lightning…
Iolanthe Seabourne is the greatest elemental mage of her generation—or so she's being told. The one prophesied for years to be the savior of The Realm. It is her duty and destiny to face and defeat the Bane, the greatest mage tyrant the world has ever known. A suicide task for anyone let alone a sixteen-year-old girl with no training, facing a prophecy that foretells a fiery clash to the death.
Prince Titus of Elberon has sworn to protect Iolanthe at all costs but he's also a powerful mage committed to obliterating the Bane to avenge the death of his family—even if he must sacrifice both Iolanthe and himself to achieve his goal.
But Titus makes the terrifying mistake of falling in love with the girl who should have been only a means to an end. Now, with the servants of the Bane closing in, he must choose between his mission and her life
Review
This story has a lot of hype. And it's well deserved. This book is amazing! It blew me away.
This tells the story of Iolanthe. It all starts with a strike of lightening. Iolanthe is said to be the greatest Mage in all of the land but she's had zero training. Titus is sworn to protect her. But he's also destined to defeat the Bane. They must work together to acknowledge their destinies.
Iola and Titus were very impressive characters. Iola was very strong and determined. Titus was like a big mystery box waiting to be unravelled. I loved him with all my heart. They both had strong unique personalities. I loved the way they interacted with not only each other but the people around them as well. They had an amazing relationship. I loved that they didn't always get along. I loved that they didn't rush things. I wasn't expecting them to have feelings for each other but I was glad when they did. It was just enough cute to satisfy.
This story has the most magical storyline. It was very Harry Potter. It had insane amounts of action. The world building was amazing. It was a little darker which I liked. I loved all the suspense. There was a good amount of tension between characters. This story was seriously perfect. I was so impressed with it. I loved it with all my heart!