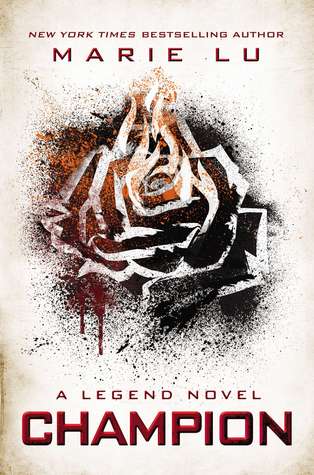 Reading Level: Young Adult
Publisher: Putnam
Source: Bought
Third and final book in the Legend series
He is a Legend.
She is a Prodigy.
Who will be Champion?
June and Day have sacrificed so much for the people of the Republic—and each other—and now their country is on the brink of a new existence. June is back in the good graces of the Republic, working within the government's elite circles as Princeps-Elect, while Day has been assigned a high-level military position.
But neither could have predicted the circumstances that will reunite them: just when a peace treaty is imminent, a plague outbreak causes panic in the Colonies, and war threatens the Republic's border cities. This new strain of plague is deadlier than ever, and June is the only one who knows the key to her country's defense. But saving the lives of thousands will mean asking the one she loves to give up everything.
With heart-pounding action and suspense, Marie Lu's bestselling trilogy draws to a stunning conclusion.
Review
This is easily my favorite in the series. It really blew my mind. I couldn't have imagined a better ending.
This concludes Day and June's story. June is back with the Republic. Day has a high level military position. But as a plague starts to take over the colonies, they are forced back together.
Day impressed me a bit more then June in this one. I still enjoyed June but she seemed a little average. Day was like a whole new person. It was like he had found something new to believe in. It was nice seeing him back in his old stunts. He has this amazing strength. He's always been very self sacrificing. I enjoyed June more towards the end. I didn't really enjoy the politician side of her. She is also very strong and self sacrificing. Her and Day literally cared more for the world than for themselves.
This story wasn't what I was expecting but in a good way. I loved the storyline. I loved the plague and all the medical aspects. I loved all the fighting and battles. The tension between characters was perfect. There was a great amount of suspense. I loved getting to see June and Day grow up. I loved all the different settings. Overall this was an amazing conclusion. I'm very sad to say goodbye!