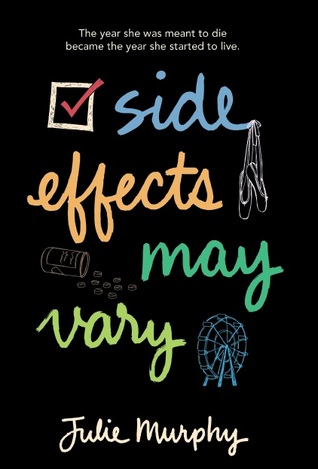 Reading Level: Young Adult
Publisher: Harper Collins
Source: Bought
Stand Alone
What if you'd been living your life as if you were dying—only to find out that you had your whole future ahead of you?
When sixteen-year-old Alice is diagnosed with leukemia, her prognosis is grim. To maximize the time she does have, she vows to spend her final months righting wrongs—however she sees fit. She convinces her friend Harvey, who she knows has always had feelings for her, to help her with a crazy bucket list that's as much about revenge (humiliating her ex-boyfriend and getting back at her archnemesis) as it is about hope (doing something unexpectedly kind for a stranger). But just when Alice's scores are settled, she goes into remission.
Now Alice is forced to face the consequences of all that she's said and done, as well as her true feelings for Harvey. But has she caused irreparable damage to the people around her—and to the one person who matters most?
Julie Murphy's Side Effects May Vary is a fearless and moving tour de force about love, life, and facing your own mortality.
Review
I've been waiting for this book to come out for over a year. I had very high expectations. But I didn't doubt for one second that this story wouldn't meet my expectations. I knew it would be amazing and it was exactly that!
This tells the story of Alice. She's been diagnosed with Leukemia. She makes a pact to live the next year to the fullest. Even if it means getting revenge on everyone who's ever hurt her. When she goes into remission, things get a little crazy. She now has to live with all the things she's done.
I read a few reviews before reading this. I know quite a few people didn't like Alice. I hoped that I would enjoy her and I did! Yes she isn't the best person in the world. But everyone has a bad side. I loved her snarky personality. I loved getting to see her grow. I found her very easy to relate too. She makes you think about your bad side and some of the things you could do differently. She's just one of those characters that make you think! I absolutely adored Harvey. He was amazing! I loved how sweet he was. I loved how much he cared for Alice. She was honestly the most important thing to him. I was so glad we got to see him stand up to her. He was willing to do anything for her but that doesn't mean he always agreed with it. I really liked that Harvey and Alice's relationship wasn't easy. It was like perfectly flawed. It was always growing and changing.
This book has an amazing storyline. I loved the Now and the Then. It had its serious moments and it's funny moments. I loved all the family aspects. I thought the character growth was perfect. This story pull your heart in like a million directions. It's impossible to put down! You have no idea what's coming next. I feel like this is just one of those books everyone need to read. It has so much you can take from it. I'm sorry guys but I just have so much love for this book! If you haven't read it just go read it!