I told you I would be back with my reviews for May releases and here we are. May was one of the best months for releases and I read some favorites. I have three good ones to tell you about.
Nantucket Red by Leila Howland
Release Date: May 13th, 2014
Received from Disney-Hyperion at TLA 2014
Cricket Thompson's lifetime of overachieving has paid off: she's headed to Brown University in the fall, with a spot on the lacrosse team and a scholarship that covers almost everything. Who knew living in the dorm cost money? An Ivy League education seems to mean living at home for the next four years.

When Cricket is offered the chance to earn enough cash to afford a real college experience, she heads back to Nantucket for the summer. But the faraway island challenges Cricket in ways she hadn't anticipated. It's hard to focus on earning money for next year, when she finds her world opening up in entirely new ways-to art, to travel, and, most unexpectedly, to a future completely different from the one she has been working toward her whole life. A friendship blossoms with Ben, the gorgeous surfer and bartender who encourages Cricket to be free, even as she smarts at the pain of seeing Zack, her first love, falling for her worst enemy.

But one night, when Cricket finally lets herself break all her own rules, she realizes she may have ruined her carefully constructed future with one impulsive decision. Cricket must dig deep to fight for her future, discovering that success isn't just about reaching goals, but also about listening to what she's been trying to ignore-her own heart.
I read Nantucket Blue last summer and absolutely loved it. It was the perfect summer read, short and sweet. I loved the setting and the romance. In this one the setting was the same, but the romance wasn't.
It's the beginning of summer and Cricket just wants to get through it. Zack and her are on the rocks and she doesn't want to spend the summer in Nantucket without him. She just wants to fast forward to Brown, but first she has to figure out how to pay for it. When an opportunity to do just that opens up she finds herself spending the summer in the last place she wants to be. She ends up making new friends, watches Zack maybe falling in love with someone else, and maybe starts falling for someone else herself.
I think that was why I didn't like this one as much as the first one. I really enjoyed seeing Cricket's character growth and seeing her discovering herself and where she wanted to go. But maybe she could have done that without finding another boy? I didn't really see the point of him. And I missed Zack. But I still loved how it ended and getting to see more of the characters. I actually wish I could see more. Stupid duology.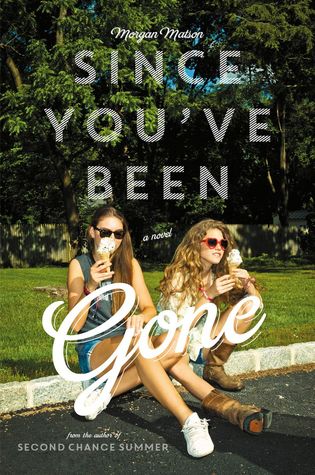 Since You've Been Gone by Morgan Matson
Release date: May 6th, 2014
Received from Simon & Schuster at TLA 2014
The Pre-Sloane Emily didn't go to parties, she barely talked to guys, she didn't do anything crazy. Enter Sloane, social tornado and the best kind of best friend—the one who yanks you out of your shell.

But right before what should have been an epic summer, Sloane just… disappears. No note. No calls. No texts. No Sloane. There's just a random to-do list. On it, thirteen Sloane-selected-definitely-bizarre-tasks that Emily would never try… unless they could lead back to her best friend.

Apple Picking at Night? Okay, easy enough.

Dance until Dawn? Sure. Why not?

Kiss a Stranger? Um...

Getting through Sloane's list would mean a lot of firsts. But Emily has this whole unexpected summer ahead of her, and the help of Frank Porter (totally unexpected) to check things off. Who knows what she'll find?

Go Skinny Dipping? Wait ... what?
I'd been hearing amazing things about Morgan Matson's books for years. So of course I was super excited to get my hands on this at TLA. After reading this, it's safe to say that if I didn't already want her other books I'll definitely be buying them soon.
Emily and Sloane are best friends; inseparable. Or so it would seem. But then Sloane disappears at the beginning of the summer with no word-except for a crazy list of things for Emily to do over the summer. Emily, used to being in Sloane's shadow and following the leader, is apprehensive. But she sees it as the only way to get her best friend back so she tries a few. As she begins doing the more daring things on the list, she starts to come out of the shadow that Sloane left behind. As she grows bolder she makes new friends-and a new more than friend-and really comes into her own. Her character growth was amazing. I loved that she had new sidekicks and I especially loved Frank. They had great chemistry and I loved that their development wasn't the main part of the story, it just made it that much better.
Since it was a book with best friend struggles, I was expecting all the flashbacks to be about how Sloane wasn't really that good of a friend. Pretty Little Liars style. Their friendship wasn't perfect, but that wasn't the case. The story was more about Emily developing as a person separate from Sloane before she could try to find her. And that's an important thing to read about (sorry Jasmine).
This book went places I didn't expect-and I loved it even more than I expected. Since then I've read two other Morgan Matson books and can now say those are some of my favorites, too.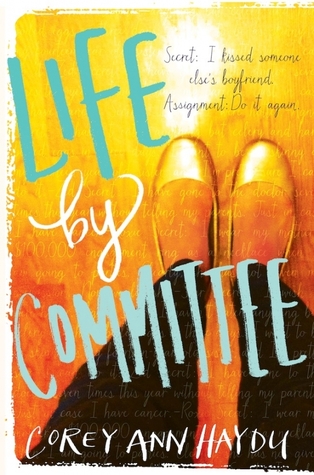 Life by Committee by Corey Ann Haydu
Release date: May 13, 2014
Received from Katherine Tegen Books at TLA 2014
Some secrets are too good to keep.
Tabitha might be the only girl in the history of the world who actually gets less popular when she gets hot. But her so-called friends say she's changed, and they've dropped her flat.

Now Tab has no one to tell about the best and worst thing that has ever happened to her: Joe, who spills his most intimate secrets to her in their nightly online chats. Joe, whose touch is so electric, it makes Tab wonder if she could survive an actual kiss. Joe, who has Tabitha brimming with the restless energy of falling in love. Joe, who is someone else's boyfriend.

Just when Tab is afraid she'll burst from keeping the secret of Joe inside, she finds Life by Committee. The rules of LBC are simple: tell a secret, receive an assignment. Complete the assignment to keep your secret safe.

Tab likes it that the assignments push her to her limits, empowering her to live boldly and go further than she'd ever go on her own.

But in the name of truth and bravery, how far is too far to go?

As soon as I read the synopsis for this I knew it sounded like something I'd like. While I did like it, some things didn't quite work for me the way I wanted them to.
Tabitha is just trying to get through the daily dramas that come with being a highschooler. Plus dealing with a new sibling and a secret boy. She discovers the LBC and it becomes a relief and an escape. As the assignments get more and more difficult to fulfill, her life gets crazier. In the end, she has to come to terms to what is really important and how far is too far.
While I did like the idea of the LBC, that was pretty much all I liked. My main problem was Tabitha. I found that at times she was a complainer and naïve. Especially, when it came to Joe. I didn't like him from the beginning. That made me see right through him the rest of the novel and I couldn't believe that Tabitha couldn't. I did really enjoy how it all fell apart and worked out. There was some things I didn't expect and I liked how it ended.
In the end, my interest with the idea didn't go past that. But that doesn't mean it won't for you.
Those are the May releases that I read. I had a pretty good month. June was pretty great, too, and I'll be getting to that later in the week.