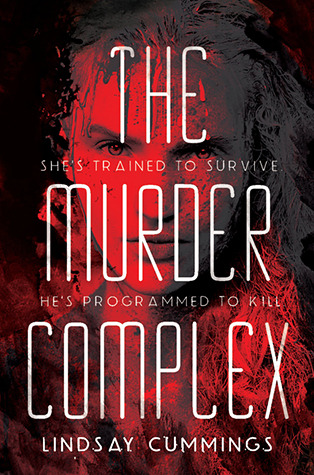 Reading Level: Young Adult
Publisher: Harper Teen
Source: Conference
First book in The Murder Complex series
An action-packed, blood-soaked, futuristic debut thriller set in a world where the murder rate is higher than the birthrate. For fans of Moira Young's Dust Lands series, La Femme Nikita, and the movie Hanna.
Meadow Woodson, a fifteen-year-old girl who has been trained by her father to fight, to kill, and to survive in any situation, lives with her family on a houseboat in Florida. The state is controlled by The Murder Complex, an organization that tracks the population with precision.
The plot starts to thicken when Meadow meets Zephyr James, who is—although he doesn't know it—one of the MC's programmed assassins. Is their meeting a coincidence? Destiny? Or part of a terrifying strategy? And will Zephyr keep Meadow from discovering the haunting truth about her family?
Action packed, blood-soaked, and chilling, this is a dark and compelling debut novel by Lindsay Cummings.
I've been impatiently waiting to read this story. I was pretty excited for it! I will say that I tried really hard not to let the hype get to me. I really wanted to go into this story with an open mind. I ended up really enjoying it!
This tells the story of Meadow. She's trained all her life to be able to survive anything. Zephyr doesn't fully understand his role in society. Neither does Meadow but she's determined to figure out why he's so important.
These characters really stole my heart. Meadow is a total badass as is Zephyr. I loved that they both had complicated back stories. They are both unbelievably strong. They would stop at nothing to get the answers they wanted. I loved that they both stood out individually but made an amazing team together as well. I will say the romance was a little off. It came on very fast and unexplained. But, it grew on me. I ended up enjoying the relationship between Meadow and Zephyr. I loved that they didn't hold the other person above themselves. They didn't need each other but were happy to have the other person.
This story leaves nothing to the imagination. It's very gritty and gruesome. It's incredibly action packed and suspenseful. I was addicted! I couldn't stop reading to save my life. The storyline was very well done. It was unique and held my attention easy. Was the story perfect? No, but I was impressed with it. I think it was a great start to a series. I will be impatiently awaiting more :)
So once upon a time at a TLA conference we me this lady with cool hair, Divergent pins, and a book coming out from Harper in 2014. Two years later at another conference, I finally got my hands on it.
That lady was Lindsay Cummings and her book was definitely worth the wait.
It's no secret that dystopian has been quite the trend lately and I'll admit I'm a little over the almost but not quite the same world with different characters. Despite that, this one a nice change from any I've read in a while. The world was seriously messed up and in more than a controlling government kind of way. I know this is the most cliche thing you can say about a dystopian, but it actually reminded me of The Hunger Games. The world was just as dark, if not more, and the characters had to do crazy things to adapt to that.
So let's talk about the characters. Meadow, one of the main characters, was endlessly loyal and kick butt. Even too much at times, but like I said the characters were a product of their environment. That wasn't more true for anyone but the other main character, Zephyr. He was an orphan, a literal ward of the state, and had to do whatever he was told to-even more so than he thought. Because he was also struggling with blacking out and murdering people. Somehow, I still sympathized with him. In a total "don't touch my baby" kind of way, not gonna lie. I don't want to give anything away about their relationship, but I will say that they had a very, uh, interesting dynamic and I loved reading about it.
This book was almost impossible to put down, action packed, and full of plot twists and emotion. I can't stress enough
that you pick it up. If you want a dystopian, but one that dark and violent, this is it. Author friendship aside, I'm really excited to get my hands on anything else Lindsay writes. Preferably a sequel. And soon!