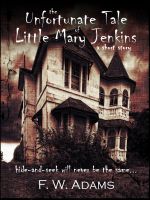 Reading Level: Young Adult
Self Published
Source: Author
Stand Alone
*This was gifted to me by author for review*
Sam and his three best friends, Nick, Jeff and Scout, find themselves in the middle of a hot boring, summer.
Looking for something to break the boredom, they escape into the dark desert behind Sam's humble double-wide trailer with a cooler full of sodas with plans to have a night of fun around a bonfire in a secluded clearing.
Surrounded by darkness and the strange sounds of the dark desert night, Scott tells the tragic story of little Mary Jenkins and an innocent game of hide-and-seek—gone terribly, terribly wrong.
What happens when a not-so-friendly neighborhood rivalry ends in tragedy?
Vengeance from the dark, dark beyond.
Review
I wasn't sure what this was about when I started it. I was surprised to see it was the story of Scary Mary or as I knew Bloody Mary. I think everyone heard that story as a kid. This was a super short fun read. It was uber creepy and made for a great ghost story.
I would say this is a story of how Scary Mary came to be. 4 teenagers get together around a fire and decide to tell a scary story. But, this scary story is true! I had no idea how Scary Mary came to be. I liked learning about how she became the creepy ghost she is. It was nice and fast paced. It was very creeptastic. I shouldn't have been reading this right before bed! It had me spooked.
This is pretty short so there isn't too much for me too say. I thought it was a cool read. Everything seemed well done and thought out. It did its job and got me scared. If you like scary stories this one is for you!