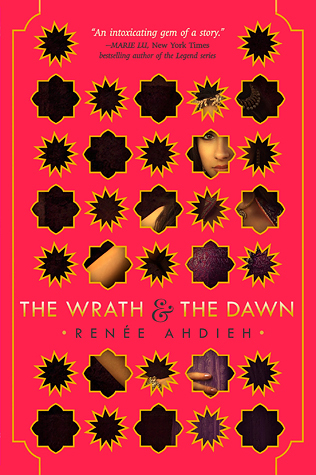 Reading Level: Young Adult
Publisher: Putman Juvenile
Source: Conference
First book in the Wrath and the Dawn series
A sumptuous and epically told love story inspired by A Thousand and One Nights
Every dawn brings horror to a different family in a land ruled by a killer. Khalid, the eighteen-year-old Caliph of Khorasan, takes a new bride each night only to have her executed at sunrise. So it is a suspicious surprise when sixteen-year-old Shahrzad volunteers to marry Khalid. But she does so with a clever plan to stay alive and exact revenge on the Caliph for the murder of her best friend and countless other girls. Shazi's wit and will, indeed, get her through to the dawn that no others have seen, but with a catch . . . she's falling in love with the very boy who killed her dearest friend.
She discovers that the murderous boy-king is not all that he seems and neither are the deaths of so many girls. Shazi is determined to uncover the reason for the murders and to break the cycle once and for all.
Review
I think I could read this book a thousand times over and never get tired of it. I'm kinda in awe of this story!
This tells the story of Shazi. Every dawn brings a new death. Shazi has volunteered to be next. She's determined to end the murders. But once Shazi gets to know the prince, her thoughts get a little clouded.
I have so much love for these characters. Shazi was absolutely amazing. I loved how genuine she was. I loved that she never stopped looking for answers. I loved that she always gave people a chance. Khalid has my entire heart in his hands. I loved his complexity. I loved how even though he was a monster, he tried to make up for all that he had done. He still had a little human in him. I loved the relationship between Shazi and Khalid. I loved how complex and unique it was. It the tension was absolute perfection.
This story is addicting. I literally could not get enough of it. I loved how dark and mysterious it was. I loved how unpredictable it was. It was incredibly complex. I don't think there was a single aspect to this story I didn't enjoy. I have so much love for this story. I feel like I could fangirl about it forever. If you haven't read this book, you need to get right on that!