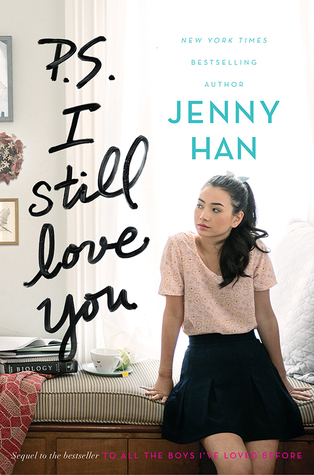 Reading Level: Young Adult
Publisher: Simon and Schuster
Source: Conference
Second book in the To All The Boys I've Loved Before series
Lara Jean didn't expect to really fall for Peter.
She and Peter were just pretending. Except suddenly they weren't. Now Lara Jean is more confused than ever.
When another boy from her past returns to her life, Lara Jean's feelings for him return too. Can a girl be in love with two boys at once?
In this charming and heartfelt sequel to the New York Times bestseller To All the Boys I've Loved Before, we see first love through the eyes of the unforgettable Lara Jean. Love is never easy, but maybe that's part of what makes it so amazing.
Review
I was a little hesitant to read this. I was worried it wouldn't have the same things I loved about the first book. But it's safe to say this didn't disappoint! This was an absolutely amazing sequel!
This continues Lara Jean's story. She's unsure where she stands with Peter. As she tries to get things figured out, someone from her past shows up. Lara Jean struggles with herself and her two boys,
I have so much love for these characters. I loved getting to see Lara Jean explore her feelings and relationships. I loved that she never gave up for lost herself. I thought John made a fabulous addition to this story. But, it's Peter who really has my heart. I absolutely adore him! I loved that he didn't stop fighting for Lara Jean. I really enjoyed their relationship. It was very easy to relate too.
I really enjoyed this storyline. I loved that we got to see a bunch of Lara Jean and Peter before John came into the picture. I loved getting to see the relationship tested. I loved that I couldn't predict the outcome. This was not surprisingly a one sitting read for me. I really couldn't have imagined a better sequel. I thought this story was perfect!