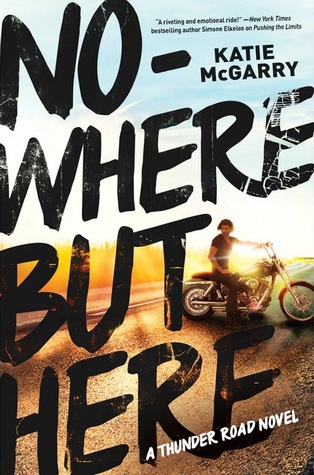 Reading Level: Young Adult
Publisher: Harlequin Teen
Source: Conference
First book in the Thunder Road series
An unforgettable new series from acclaimed author Katie McGarry about taking risks, opening your heart and ending up in a place you never imagined possible.
Seventeen-year-old Emily likes her life the way it is: doting parents, good friends, good school in a safe neighborhood. Sure, she's curious about her biological father—the one who chose life in a motorcycle club, the Reign of Terror, over being a parent—but that doesn't mean she wants to be a part of his world. But when a reluctant visit turns to an extended summer vacation among relatives she never knew she had, one thing becomes clear: nothing is what it seems. Not the club, not her secret-keeping father and not Oz, a guy with suck-me-in blue eyes who can help her understand them both.
Oz wants one thing: to join the Reign of Terror. They're the good guys. They protect people. They're…family. And while Emily—the gorgeous and sheltered daughter of the club's most respected member—is in town, he's gonna prove it to her. So when her father asks him to keep her safe from a rival club with a score to settle, Oz knows it's his shot at his dream. What he doesn't count on is that Emily just might turn that dream upside down.
No one wants them to be together. But sometimes the right person is the one you least expect, and the road you fear the most is the one that leads you home.
Review
Katie McGarry has done it again! This book was absolutely amazing in every way possible.
This tells the story of Emily. A death in the family has made her reconnect with her dads side of the family or so she thought. Things aren't as they seem to be in Snowflake, Kentucky.
I really enjoyed all of these characters. Emily was very sarcastic and determined. I loved getting to see her learn to accept her past and her family. Oz was pretty hot stuff! I loved how strong he was. J loved how protective he was over Emily. K loved that he didn't take anyone's crap. Family is a huge aspect of this story. It might have been my favorite part. I loved seeing Emily grow relationships with everyone and connect with her hometown.
This book has an amazing storyline! It has family issues and motorcycles and tons of action and romance. I loved how unpredictable it was. I loved how fun and exciting everything was. I couldn't put this down to save my life. There wasn't a single aspect I didn't enjoy! I thought this book was absolute perfection!