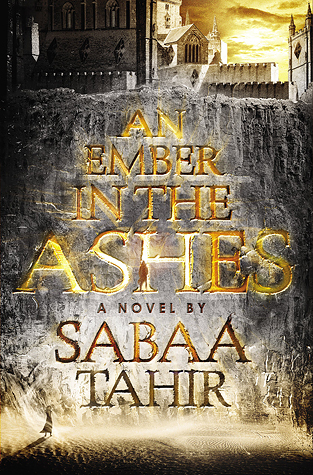 Reading Level: Young Adult
Publisher: Razorbill
Source: Conference
First book in the An Ember in the Ashes series
Laia is a slave. Elias is a soldier. Neither is free.
Under the Martial Empire, defiance is met with death. Those who do not vow their blood and bodies to the Emperor risk the execution of their loved ones and the destruction of all they hold dear.
It is in this brutal world, inspired by ancient Rome, that Laia lives with her grandparents and older brother. The family ekes out an existence in the Empire's impoverished backstreets. They do not challenge the Empire. They've seen what happens to those who do.
But when Laia's brother is arrested for treason, Laia is forced to make a decision. In exchange for help from rebels who promise to rescue her brother, she will risk her life to spy for them from within the Empire's greatest military academy.
There, Laia meets Elias, the school's finest soldier—and secretly, its most unwilling. Elias wants only to be free of the tyranny he's being trained to enforce. He and Laia will soon realize that their destinies are intertwined—and that their choices will change the fate of the Empire itself.
Review
I was very impressed by this story. It was very dark and unique. Once I picked it up, there was no hope for me.
This tells the story of Laia. Her brother has been taken by the Masks and the rest of her family has been killed. If she's going to save her brother, she must join the Resistance.
I really enjoyed all the characters. Laia had amazing strength and determination. She was incredibly brave. Elias was a pretty complex character. I loved his outlook on things. He really just made the best of what he had. I loved getting to see him stand up for himself and what he believed in. We really got to see these characters struggle and that made everything seem more real. This book has a fabulous set of secondary chapters! I loved the good vs bad vibe to them.
This book has a very dark and twisted storyline. I loved the world building. It was very fast paced and unpredictable. I really enjoyed the complexity of this story. It was very original and well done. Overall, I loved this story. It was unlike anything I've ever read! I definitely have my fingers crossed for a sequel!