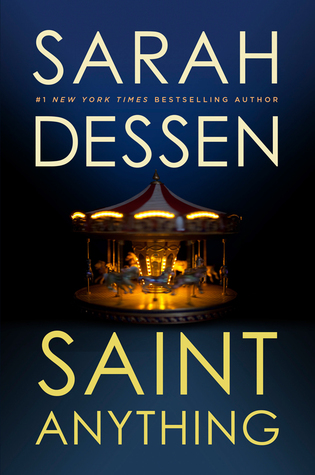 Reading Level: Young Adult
Publisher: Viking Juvenile
Source: Conference
Stand Alone
Peyton, Sydney's charismatic older brother, has always been the star of the family, receiving the lion's share of their parents' attention and—lately—concern. When Peyton's increasingly reckless behavior culminates in an accident, a drunk driving conviction, and a jail sentence, Sydney is cast adrift, searching for her place in the family and the world. When everyone else is so worried about Peyton, is she the only one concerned about the victim of the accident?
Enter the Chathams, a warm, chaotic family who run a pizza parlor, play bluegrass on weekends, and pitch in to care for their mother, who has multiple sclerosis. Here Sydney experiences unquestioning acceptance. And here she meets Mac, gentle, watchful, and protective, who makes Sydney feel seen, really seen, for the first time.
The uber-popular Sarah Dessen explores her signature themes of family, self-discovery, and change in her twelfth novel, sure to delight her legions of fans.
Review
I have so much love for this book. Not only was it super fun but it had so much value to it. I was very impressed!
This tells the story of Sydney. Things haven't been easy for her since her brother was placed in prison. She's trying for a new start and the Cathams are exactly what she needs.
I really enjoyed Sydney. I loved how honest she was. She always made the best of things. I loved seeing her deal with her problems and find herself. Family was such a huge aspect of this story. I found it very relatable. This has a pretty fabulous set of secondary characters. I absolutely adored the Cathams.
This has a way serious storyline. I loved the meaning behind it. I loved how unpredictable it was. I loved that even while being serious it had so many fun moments to it. Once you get into this story, it's impossible to put down. I don't think there was a single thing I didn't enjoy. Sarah Dessen has done it again!