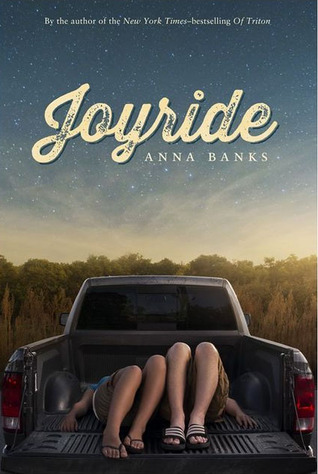 Reading Level: Young Adult
Publisher: Feiwel and Friends
Source: Conference
Stand Alone
A popular guy and a shy girl with a secret become unlikely accomplices for midnight pranking, and are soon in over their heads—with the law and with each other—in this sparkling standalone from NYT-bestselling author Anna Banks.
It's been years since Carly Vega's parents were deported. She lives with her brother, studies hard, and works at a convenience store to contribute to getting her parents back from Mexico.
Arden Moss used to be the star quarterback at school. He dated popular blondes and had fun with his older sister, Amber. But now Amber's dead, and Arden blames his father, the town sheriff who wouldn't acknowledge Amber's mental illness. Arden refuses to fulfill whatever his conservative father expects.
All Carly wants is to stay under the radar and do what her family expects. All Arden wants is to NOT do what his family expects. When their paths cross, they each realize they've been living according to others. Carly and Arden's journey toward their true hearts—and one another—is funny, romantic, and sometimes harsh.
Review
I was a little hesitant to read this because I had seen some mixed feelings. I thought this was a very enjoyable read! It was super original and fun.
This tells the story of Carly. She's had to work her life away ever since her parents got deported. Arden is in need of a new accomplice and he has his eye on Carly.
I found the characters to be very unique. I loved how down to earth Carly was. I loved getting to see her grow and fight for herself. Arden had an amazing go lucky personality. I loved how protective he was over Carly. He was very sweet to her. I loved seeing him pull her out of her shell. Family played a huge role in this story. I loved how complicated the family situations were and seeing them get resolved.
This story takes awhile to get going. Once you figure it out, it's difficult to put down. It had tons of adventure. There was lots of tension between characters and mystery. This was a shorter read that was very difficult to put down. It had a ton of aspects I really enjoyed! Overall I thought this was a great read!