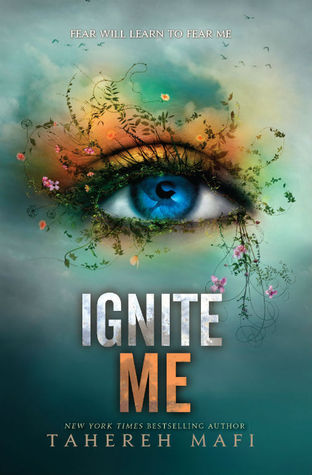 Reading Level: Young Adult
Publisher: Harper Collins
Source: Bought
Third and Final book in the Shatter Me series
The heart-stopping conclusion to the New York Times bestselling Shatter Me series, which Ransom Riggs, bestselling author of Miss Peregrine's Home for Peculiar Children, called "a thrilling, high-stakes saga of self-discovery and forbidden love."
With Omega Point destroyed, Juliette doesn't know if the rebels, her friends, or even Adam are alive. But that won't keep her from trying to take down The Reestablishment once and for all. Now she must rely on Warner, the handsome commander of Sector 45. The one person she never thought she could trust. The same person who saved her life. He promises to help Juliette master her powers and save their dying world . . . but that's not all he wants with her.
The Shatter Me series is perfect for fans who crave action-packed young adult novels with tantalizing romance like Divergent by Veronica Roth, The Hunger Games by Suzanne Collins, and Legend by Marie Lu. Tahereh Mafi has created a captivating and original story that combines the best of dystopian and paranormal, and was praised by Publishers Weekly as "a gripping read from an author who's not afraid to take risks." Now this final book brings the series to a shocking and satisfying end.
Review
This wasn't at all what I was expecting. I was a little scared to read this because I didn't want to dislike it. I had heard some mixed things and was worried. I ended up loving this ending. I had nothing to worry about!
This concludes Juliette's story. She knows what she has to do. And, she knows how hard it's going to be. But she's determined to save the world. She will stop at nothing to take down the Reestablishment.
Juliette was like a whole new character. I loved seeing her finally come into herself. I loved how strong and determined she was. I loved that she didn't let anyone control her. Warner finally won my heart. I've been fighting him for so long. He's always been an amazing character but I enjoyed him so much more I'm this. I loved finally learning to love him. We got to know so much about him it was impossible not to love him. Adam was also a whole new character. I miss the old sweet Adam. He was intense in this story. He was still enjoyable but he wasn't my favorite. Oh Kenji, how I love you. You are perfect in every way. I shall miss you so very much. Seriously, Kenji makes the most amazing secondary character. The story wouldn't have been the same without him.
This had an unexpected storyline. I expected constant action this focused more on answering our questions and getting to learn new things. It wasn't slow or boring at all. It was just showing us a side of the story we hadn't gotten to see. Most of the action was closer to the end. But there was tension between
characters and plenty of building up to it. Overall I couldn't have asked for a better ending. It was everything I wanted!