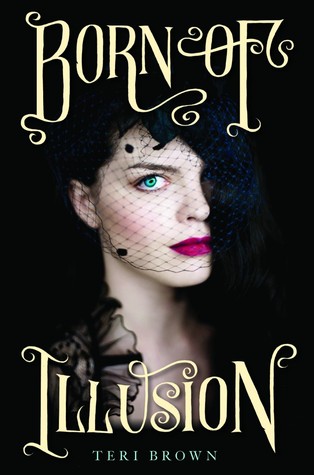 Reading Level: Young Adult
Publisher: Balzer and Bray
Source: Conference
First book in the Born of Illusion series
Anna Van Housen has a secret.
A gifted illusionist, Anna assists her mother, the renowned medium Marguerite Van Housen, in her stage show and séances, easily navigating the underground world of magicians, mediums, and mentalists in 1920's New York. As the illegitimate daughter of Harry Houdini—or so Marguerite claims—sleight of hand illusions have never been a challenge for Anna. The real trick is keeping her own gifts secret from her opportunistic mother. Because while Marguerite's own powers may be a sham, Anna possesses a true ability to sense people's feelings and foretell the future.
But as Anna's powers intensify, she begins to experience frightening visions of her mother in peril, which leads her to explore the powers she's tried so long to hide. And when a mysterious young man named Cole moves into the flat downstairs, introducing Anna to a secret society that studies people with gifts like hers, she is forced to confront her past and rethink everything she's ever known. Is her mother truly in danger, or are Anna's visions merely illusion? And could the great Houdini really be her father, or is it just another of Marguerite's tricks?
From Teri Brown comes a world bursting with magic, with romance, and the temptations of Jazz Age New York—and the story of a girl about to become the mistress of her own destiny.
Review
I was really impressed by his story. I loved the late 1900s setting. The characters were fabulous! I loved all the magic aspects. This is one of those stories that sucks you in and never lets you go.
This tells the story of Anna. She's a gifted illusionist. She's always been her mothers back up. When the mysterious Cole moves in, Anna discovers there's more to her powers than she knows.
I loved Anna. She had a softer personality. I loved seeing her powers grow. I loved that she stood up for herself without being an ungrateful brat. She was very caring over her mother. Cole is still kind of a mystery to me. I liked his character but I wanted to see more of him. Hopefully he plays a bigger role in the next book. This book has a lot of secondary characters. I loved the good vs bad vibe. It was really difficult to tell who was on what side.
This has a little bit of a darker storyline. It's very mysterious. There's a ton of suspense and action. Once I got into it, I couldn't put it down. I didn't see any of the twists coming. Overall, I really enjoyed this story. I found it very impressive. I cannot wait to continue this story.