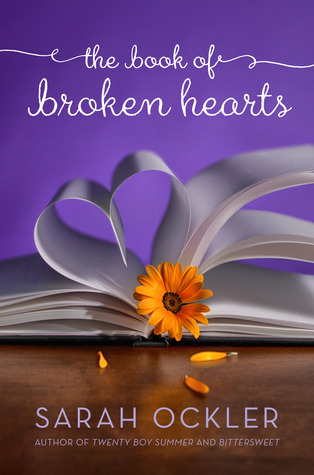 Reading Level: Young Adult
Publisher: Simon Pulse
Source: Conference
Stand Alone
Jude has learned a lot from her older sisters, but the most important thing is this: The Vargas brothers are notorious heartbreakers. She's seen the tears and disasters that dating a Vargas boy can cause, and she swore an oath—with candles and a contract and everything—to never have anything to do with one.
Now Jude is the only sister still living at home, and she's spending the summer helping her ailing father restore his vintage motorcycle—which means hiring a mechanic to help out. Is it Jude's fault he happens to be cute? And surprisingly sweet? And a Vargas?
Jude tells herself it's strictly bike business with Emilio. Her sisters will never find out, and Jude can spot those flirty little Vargas tricks a mile away—no way would she fall for them. But Jude's defenses are crumbling, and if history is destined to repeat itself, she's speeding toward some serious heartbreak…unless her sisters were wrong?
Jude may have taken an oath, but she's beginning to think that when it comes to love, some promises might be worth breaking.
Review
This story was incredibly well done. I loved it to pieces! It had amazing humor with a great family atmosphere.
This tells the story of Jude. The book of broken hearts has been passed down from generation to generation. There's one rule when it comes to boys, stay away from the Vargas'. But, that isn't as easy as it may seem.
I really enjoyed Jude. I loved her humor. I loved how important her family was to her. She put everything aside for what mattered most. I loved that we got to see Jude grow and learn to stand up for herself. Emilio was absolutely fantastic. I loved him! Not only was he super funny, but he was super cute too. I loved his work ethic. I loved that he took things slow with Jude. You could tell he really cared about her. Family was a huge aspect of this story. It made the story relatable and more serious. the family aspect may have been my favorite part of the story. Other than the motorcycles of course.
This was a one sitting read for me. Once I started reading, I couldn't stop. I loved it right from the beginning. I loved that it had a serious time to it. I thought that part of the story was very well done. But it was very light at times too. This was a very fun read. I loved the motorcycles. There was just enough cute to satisfy. I can't think of a single thing I didn't like about this story. I can't wait to read more from this author!